I went to Target on Saturday to buy two CDs, which of course they didn't have, so I started wandering around. I was pretty surprised to encounter the much talked about Eee PC from Asus, on one of the endcaps:
It's amazing how small the box is, and how low the price is for a full-featured computer. They even display the Linux penguin right on the box. Here are the specs: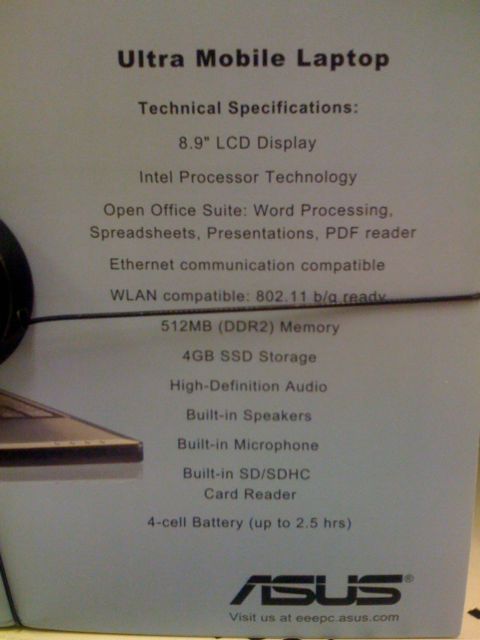 Eee specs: 512Mb of RAM, 4Gb of storage, and WiFi all for $300.
I would have been pretty tempted to toss one in the proverbial cart, if it weren't for the keyboard on the thing. While the keyboard is too small for me, this looks like an absolute killer PC for kids, and I bet that Asus is selling a lot of them for this purpose. $300 is in the impulse buy category, and it's cheaper then the fully-featured Xbox 360 and PlayStation 3 consoles.
Asus has done some great work here in redefining the PC experience, and expectations around how much that should cost. The netbook market has really been taking off, and I'll be interested to see where it goes from here.
-Andy.