BarCampBlock: Worldwide Lexicon
I'm at BarCampBlock in Palo Alto today, and the second talk that I went to was about a new OSS-driven service, Worldwide Lexicon.
Worldwide Lexicon - user contributed language translations of Internet content

produce tools that webservice providers and publishers can use to produce websites in multiple languages

like wikipedia - users produce translation

popular sites will have bilingual users in their population - low percentage in US, much higher in the rest of the world

want to make system accessible to wide range of websites - via plugins for popular CMS systems, etc.

add links to blog posts - to translate it to different languages. Look at IP/browser preferences to suggest a language.

click on edit - brings up an editor that floats on top of the text, for editing the translation.

Have Wordpress and generic PHP, coming with Movable Type, and possibly Drupal. It is an open source project, so it is possible to easily add support for other platforms.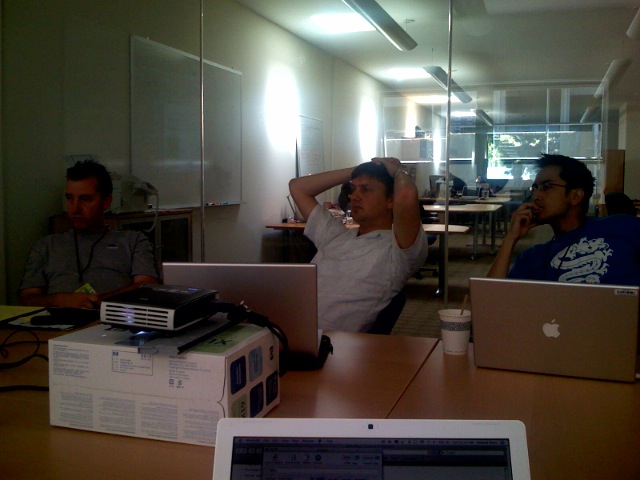 Brian McConnell, talking about Worldwide Lexicon at BarCampBlock
http://marx.worldwidelexicon.org - more of an admin site

powered by PHP and cake

working on a commercial system that'll be out later this year - publishers will be able to list what translation they want done, and list a price (i.e. $.50/paragraph), then it will be up to translator to decide if they want to accept

governments (particularly EU) might be interested in using this for translation.

Could extend this framework to translate UI of website, not just content.

user motivations - people who want to keep their language skills up, people who want to share text with friends/family that don't speak the source language, etc.
copyright issues

translation is a derivative work, translator doesn't have any rights - copyright goes to original author?

can do it so that they don't steal page views - route all traffic to translate articles through original publishers site.
Education applications

there are a lot of ways to use this for teachers and students

could have students do translations of content for assignments - makes it more relevant to them, etc.

http://twitter.pbwiki.com/Clones - shows how there is a market for translated applications.

People want to be able to see a UI in their own language, and with local idomatic expressions, etc.

Technorati Tags: BarCampBlock, BarCamp, Worldwide Lexicon, Wiki, Translation

Posted by andyr at August 19, 2007 11:59 AM